The Ultimate Guide to Staff Augmentation: Dipping into External Talent Pools to Expand Your Team
When your personnel coordinates on a project, you have tried and true workflows that see it through to completion. So what do you do when your existing staff needs more support than the current procedures can provide? You're in the position of risking burnout and poor work quality by having them work consistently over time rather than go through a lengthy recruitment process—or you can outsource that excess work quickly and easily with staff augmentation.
But what is staff augmentation? This outsourcing strategy allows you to have experts in the field on-demand that temporarily increase your capacities for the duration of a project, with the ability to scale up or down as needed. Choose one knowledgeable staff member with the skills you need, bolster your team with several experienced professionals, or swap between these two staff augmentation strategies to suit the project at hand.
At Devsu, augmenting staff doesn't incur fees for placement or recruitment. You only pay a fixed monthly price, and we handle the salary, insurance, and training. Our corporate policies apply to these augmented staff members regarding cyber and security insurance, confidentiality, liability coverage, and more. With the ability to choose a staff augmentation contract that fits your project at 3, 6, or 12 months, this is a flexible option for team growth that won't add to the administrative workload for your business.
Staff Augmentation Pros & Cons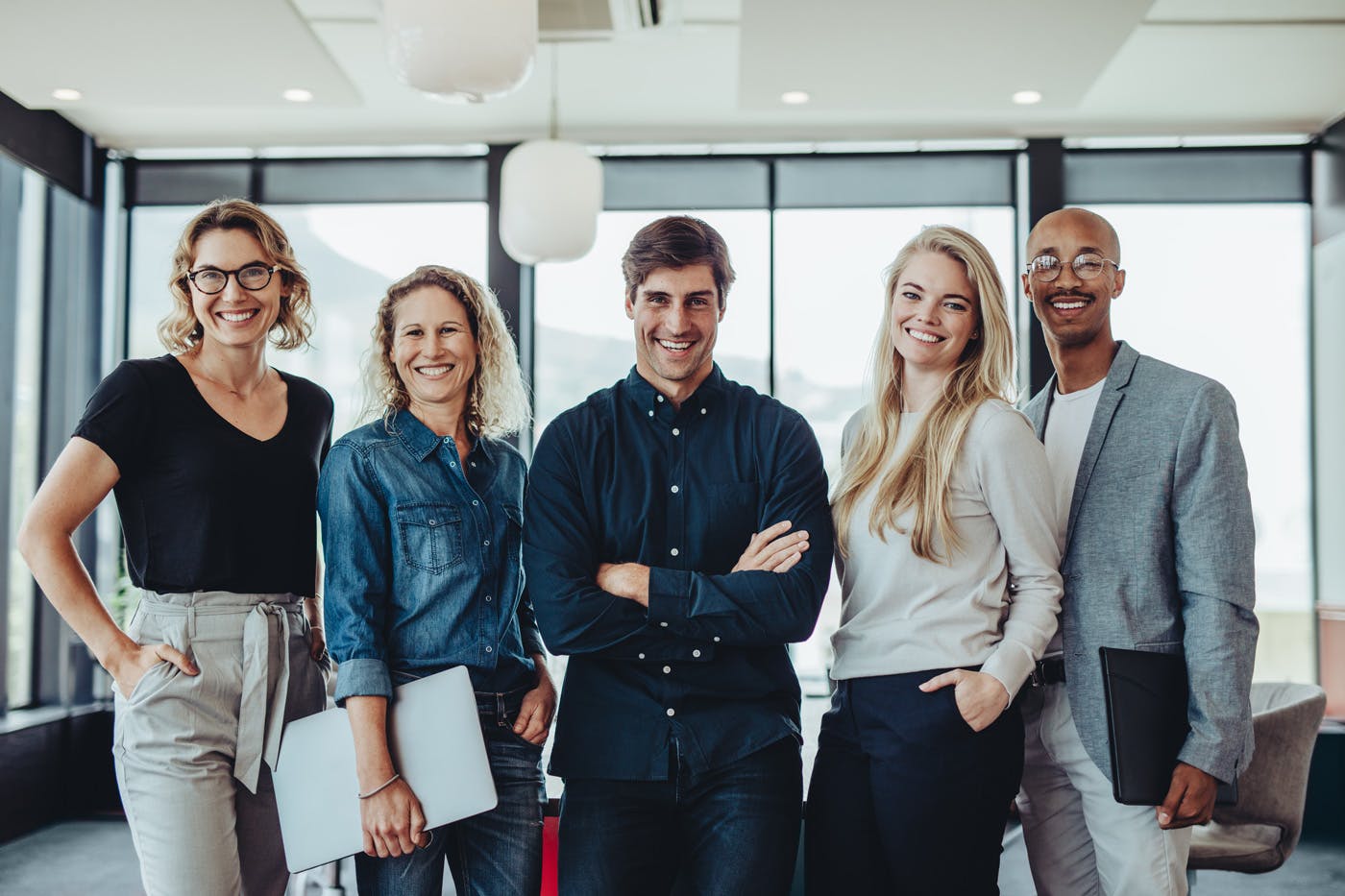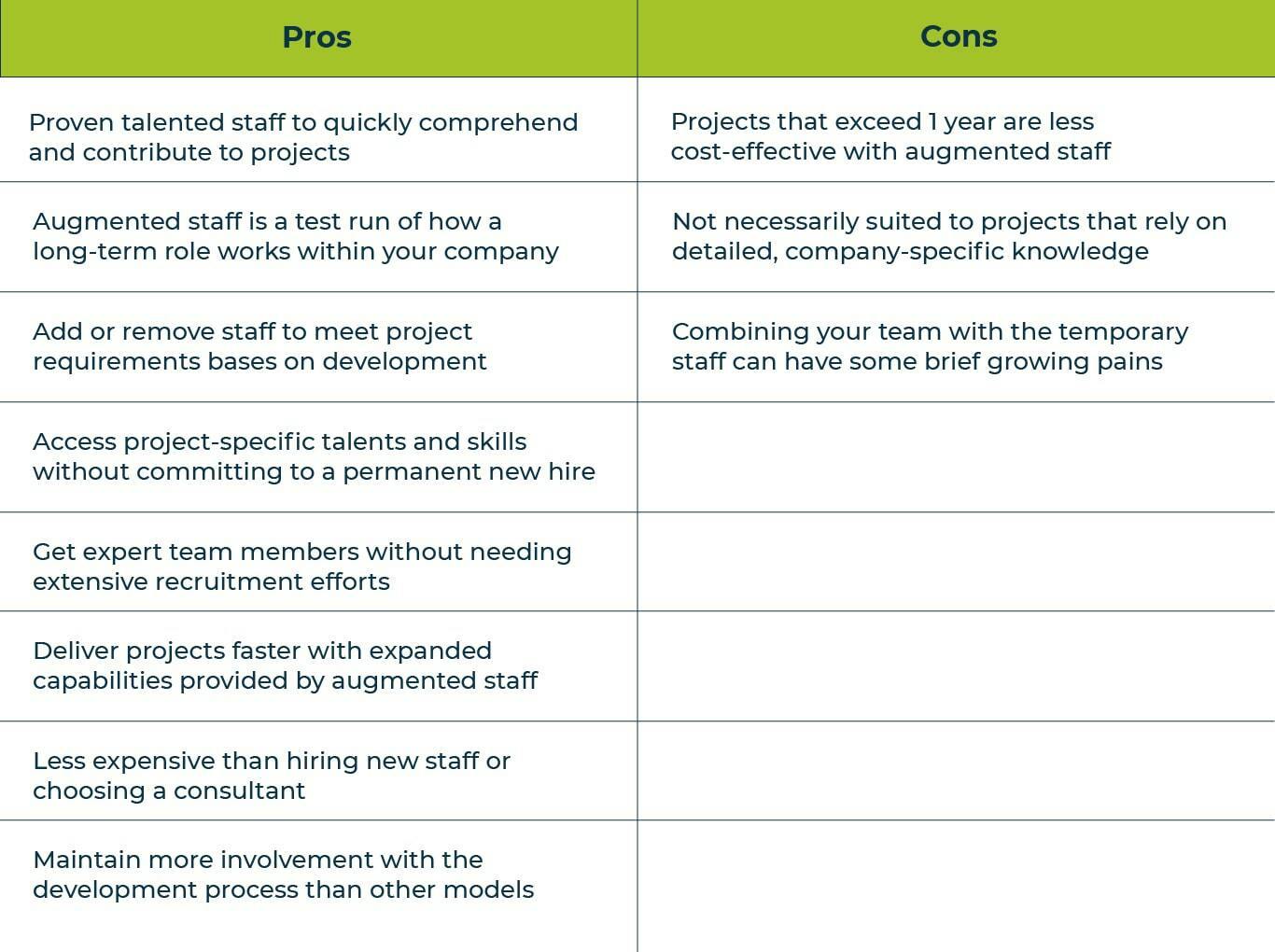 Expanding your personnel with professionals who have the required skill sets is the main objective of staff augmentation, meaning you and your current employees can deliver the same high-quality results you expect. Enhance your capacities with extra support in a matter of days or weeks rather than months.
How to Prepare a Team for Staff Augmentation
Communication is key when preparing your workforce for augmented staff. Ask them about the experience and skills they need from temporary additional team members, so they can plan ahead for the incoming experts that their project will benefit most from.
You should also set expectations that they're not likely to find a unicorn with everything on their checklist. A staff augmentation partner such as Devsu will connect you with qualified personnel to enhance the talents and capabilities of your existing staff, sync with your time zone and schedule, and complement your workplace culture.
Hold regular meetings about the augmented staff, so your employees know how they'll integrate into your processes, or address these workflow changes in pre-scheduled routine meetings. Review how long they are scheduled to be on staff, the skills they bring to the team, how to contact them and which meetings they'll attend, and the role(s) they're meant to fill. Lastly, remind everyone that they can bring questions to you or the project manager to make sure all concerns are addressed before your new professionals get started.
For tips on remote staff augmentation, read Remote Teams Implementation.
Staff Augmentation Models & Similar Services
Because of the versatility of augmented staff, models can vary and adapt to meet existing needs. Whether you need to add team members for developing a new feature or reduce your staff because you only need help with IT support, your staff augmentation model can be altered to fit your requirements.
As it can easily evolve into other engagement models or be replaced with different services based on the level of ownership you want, it's important to understand these distinctions to pick what's best for your project.