Devsu Recognizes and Appreciates Our Dedicated Team Members
Now is the time to think small. The small business, that is.
Did you know that small businesses generate 44% of the U.S. economy? It's true. Small businesses are the lifeblood of their local communities and the overall health of the federal economy. They employ more than half of the working class and are a major asset to their local communities.
What's more, they provide healthy economic competition and incentives for innovation. By having neighbors helping neighbors and friends helping friends, small businesses really are the backbone of the economy
As a small business ourselves, we understand first hand just how important it is for us to recognize all the efforts — both big and small — that play into our success. That's why our leadership team here at Devsu would like to take this opportunity to highlight our constant appreciation for our employees and their dedicated work.
Since 2012, we've been offering services in web, mobile app, and custom software development as well as IT augmentation and technology consulting. We deliver best-in-class technology and are at the forefront of the latest tech, practices, and processes to continuously improve digital products.
Our employees are grounded by our values, and we're able to see this every day through their actions and committed efforts.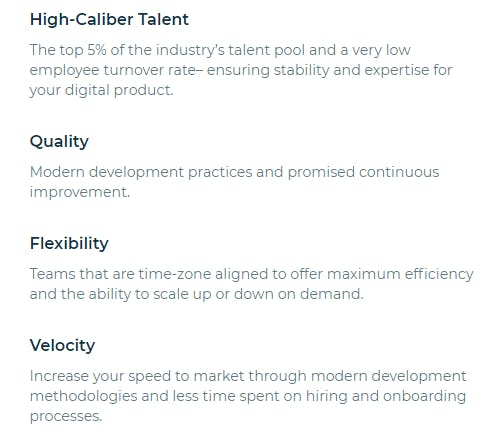 Over the years, we've completed over 150 projects for clients in a wide range of industries and locations. In a current ongoing engagement, we've been handling product development services for a B2B data analysis and market research SaaS.
Our team members have provided both fronts- and back-end development work, building a solution that allows end-users to utilize data analysis tools in one place. The founder of the SaaS firm kindly took the time to leave their thoughts about the engagement.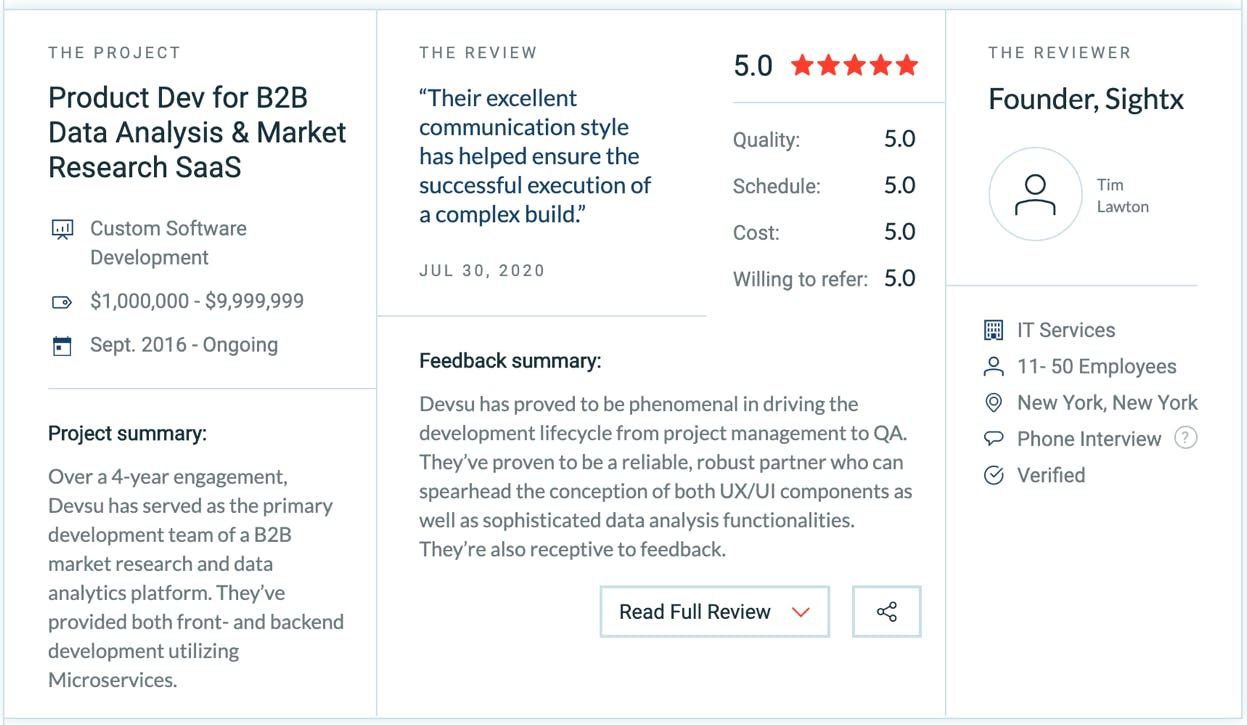 They said, "They have an extremely efficient workflow. They're a dedicated, full-time team, and in the absence of cumbersome project managers or middlemen, we've had direct access to their developers." They continued, "We've really appreciated our high level of interaction with them and how diligent and agile they are."
See what we mean by dedication? Our employees are devoted to providing direct support and communication with each of our clients. We're grateful for this feedback because it helps us increase our online visibility on platforms like The Manifest, a B2B guide that includes the best companies by location and industry.
Thank you, Tim, and to all of our reviewers, for providing us with such constructive feedback! We appreciate your time and efforts. Also, we appreciate your recognition of our wonderful team. We think they're pretty great too!
If you're ready to build something amazing together, be sure to get in touch!