How to Kick-start Your Projects with Augmented IT Recruitment and Outsourced Development Teams
Everyone wants the best, but you don't get there without a plan. To get started with top-notch talent acquisition, you need to figure out where you are now. Do you miss out on jobs because you don't have the staff or can't fill a knowledge gap? Are projects sitting in limbo as you wait for months to successfully hire the right people? Or have you pushed ahead on development with the team you have, only for it to cost you more time and money later?
We've heard it all at Devsu, and we want to help innovators and business owners with these obstacles for a smoother product launch. With any project you have in mind, you can find scalable talent that fits your company culture, time zone, and technical requirements with our outsourcing and IT staffing guide. Let's see how you can bring your dream team together.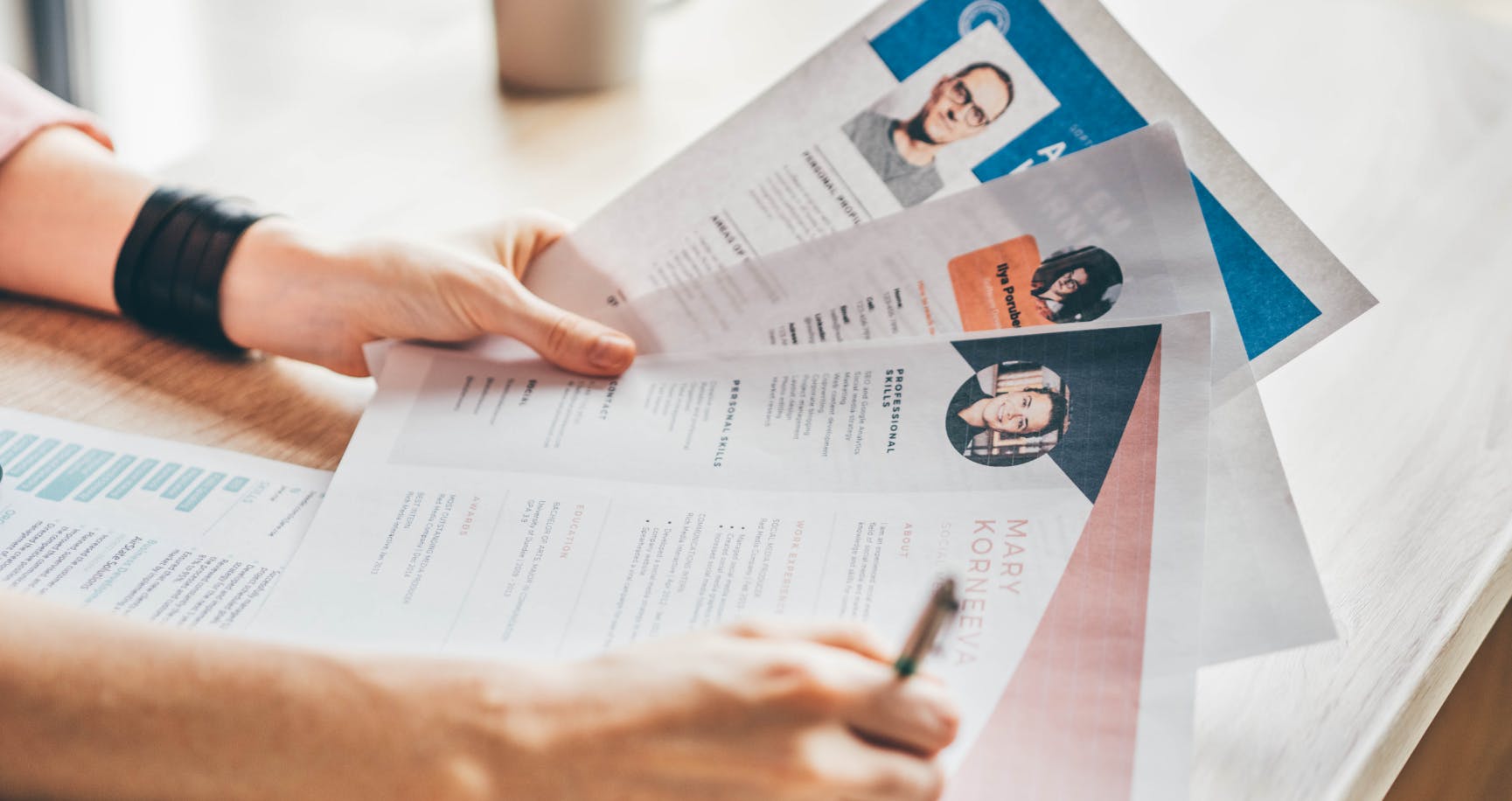 You know how the standard hiring process typically works. You start with internal recruiting and move on to traditional methods. Post a listing, sort through applicants who may or may not fit the job, and hope you find your unicorn before they accept another offer. The truth is that 70% of businesses will need 1 to 4 months to fill a vacant role, as found by LinkedIn Global Recruiting Trends.
So, how does this look different when you partner with a staff augmentation and software outsourcing firm? It can vary between companies, but it boils down to these steps:
Research: You'll want to review the case studies and services provided by the partner you're thinking of doing business with. Do they have the credentials and expertise to meet your needs? You want a company that can do more than what you need right now, in case you add new features later.
Strategizing: You tell them about your project, and they come back with the personnel from their network that have the right soft skills and digital expertise: for your business and tech stack. You interview those candidates, then decide if you want to add them to your team and for how long. This can take as little as 2 weeks.
Development: Now you're getting projects done. From MVP to IPO, you'll have world-class technology professionals every step of the way. Need to hire a QA team or AI experts? Did the project timeline suddenly move up? Your partner can help you change your service agreement to be exactly what you need on-demand.
People sometimes confuse staff augmentation with recruitment process outsourcing (RPO), but there are differences. With RPO services, your vendor will act independently to cover your full talent acquisition from end-to-end and result in new hires. Staff augmentation adds short-term or long-term personnel that you aren't going to hire permanently. Either augmenting your team or using an RPO solution can last for several years, but you have more say in staff augmentation.
As for outsourced teams, business process outsourcing (BPO) can actually be related to software outsourcing. BPO covers any process at your company that you can outsource to a partner: administrative work, manufacturing, and more. A software outsourcing vendor can take care of a few BPO services for you, such as your website, market research, and IT management. What they provide could vary by company, so be sure to ask if you're interested in this type of outsourcing.
Benefits of Staff Augmentation & Software Outsourcing Services
Costs can vary with project size, skill requirements, timelines, and more that can influence the final price tag. But there are three types of staff augmentation and outsourcing that are easily described as high-, medium-, and low-cost: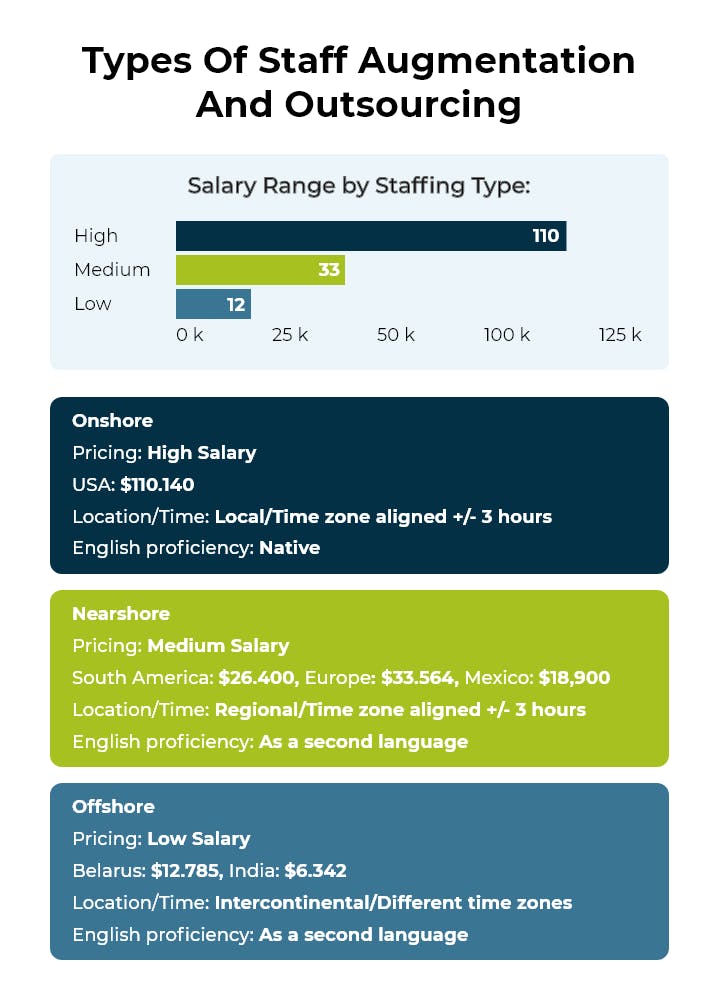 Heads up: some staffing companies will charge placement or recruitment fees, so be sure to have a full understanding of what your bill will include.
Before you go into setting a price limit, ask yourself what you want from information technology staff augmentation or software outsourcing. Here are some common traits we see clients asking for:
Communication with the in-house team overseeing the project
Soft skills for augmented staff that align with your workplace culture (i.e., creativity)
Flexibility to meet shifting needs and priorities during project development
Fluency in the local language, so nothing is lost in translation
Expertise with development skill sets for the specific project at hand
Accessibility for remote and in-office teams to encourage collaboration
Brand agnostic personnel who can work with your chosen programs
Read: Outsourcing Development Across The Globe
Top Talent from Devsu: Software Outsourcing & Staff Augmentation
Now you know how these services work and about how much they cost in relation to each other. The last question is how to pick a tech recruiting partner you can depend on.
At Devsu, we take pride in our role at your business. What we do is about more than sparing your hiring managers from lengthy interviews in a competitive job market. We are truly part of your team.
This shows in how we do business. You can budget for projects more accurately with our services, because you only pay a fixed monthly price for your augmented or outsourced staff. There's no paying for services you don't use or getting tied up in long-term contract restrictions. When unexpected tasks come up or your project timeline changes, you can adjust your team size or contract length too. We're fluent in English and aligned to your time zone, so work gets done on your terms.
The market won't wait, and Devsu is here to help launch your projects faster with the world-class quality your customers expect. Let's work together today.